SREE GURUVAYURAPPAN TEMPLE, KOLKATA!
ഓം നമോ ഭഗവതേ വാസുദേവായ
Payment Methods
ALL PAYMENTS TOWARDS PUJA BOOKING/DONATIONS MAY BE PAID THROUGH BHARAT QR CODE, WHICH IS SHOWN BELOW. 
YOU CAN ALSO MAKE PAYMENTS, IN CASE OF PAYMENT FAILURE WHILE YOU BOOK  YOUR OFFERINGS/DONATIONS.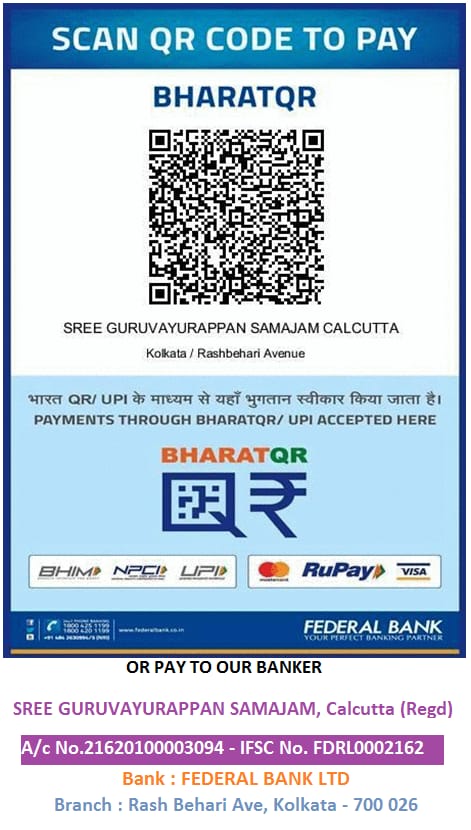 1) Drafts/Pay Orders/Cheques may  be drawn in the name of "Sree Guruvayurappan Samajam Calcutta(Regd.)"
    Remittances may be made to the following banks through RTGS/NEFT
(A)  Federal Bank, Rash Behari Branch, 152, S.P.Mukherjee Road, Kolkata-700026, India.
       SB A/C No.21620100003094  IFS Code-FDRL0002162
2) Please Donate online in E-Kanikka section.
നാരായണ NARAYANA നാരായണ NARAYANA നാരായണ NARAYANA നാരായണ NARAYANA